A multi-dish melange of flavours that is served on a banana leaf, we decode what an Onam sadhya consists of and how you can enjoy it, ahead of the annual harvest festival of Kerala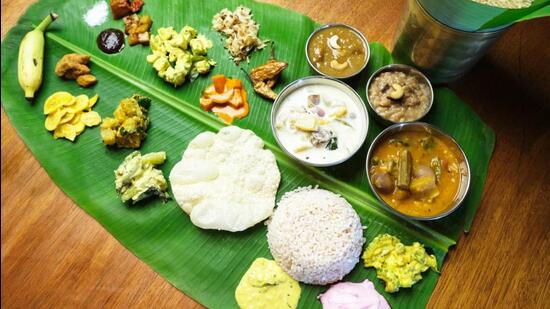 Come Onam and visuals of vibrant floral pookalams (rangoli), women clad in traditional kasavu sarees clapping their hands to the rhythmic beats of traditional instruments come rushing to the mind. But for most people today, both within and outside of Kerala, the lavish sadhya is what they instantly resonate with, when talking of the annual 10-day harvest festival that culminates with Thiruvonam on September 8. On this day, the homecoming of king Mahabali to Kerala is celebrated with great splendour.
What goes into a sadhya?
Traditionally vegetarian, this lavish meal typically consists of around 26 dishes, covering all kinds of flavours – sweet, sour, salty, spicy and umami (savoury). "Some of the customary dishes are Kalan (raw banana curry made with yoghurt and ground coconut), Olan (Stewed ash gourd, pumpkin, cucumber with long string beans and dried red beans in coconut milk), Avial (cumin scented seasonal country vegetables in coconut, shallots and turmeric based stew), Inji curry (ginger with palm sugar and tamarind with asafoetida ) and the much-loved payasam. One fruit that has a ubiquitous presence in the sadhya is banana, in raw and cooked form. A whole ripe banana is also served, symbolic of prosperity," shares Printo Pauly, sous chef, The St. Regis Mumbai, which is doing a sadhya on delivery for foodies on September 8.
"Onam is held in honour of the returning benevolent king Mahabali, so tradition rightfully demands that you do not cut corners in the richness, scale and opulence of it," notes Thomas Fenn, partner at Mahabelly, Delhi, which is offering a succulent spread to patrons on September 7, 8 and 9. He adds, "Coconut in various forms (milk, grated and roasted) and curd are a common thread in most of the recipes. Aromatics such as ginger, mustard seeds and curry leaves are absolutely essential, too."