The Holi Festival of Colors in India is a celebration of the victory of good over evil, the destruction of the demoness Holika. It is celebrated every year on the day after the full moon in the Hindu month of Phalguna which is early March. People celebrate the start of spring and other events in the Hindu religion; they march the streets and spray people with colored powders while dancing and singing.
Celebrate the Holi Colors festival in India with our very own Trips To India
!
Holi Festival India Historical Background
Although it is a Hindu festival, it is popular among non-Hindus. People gather the night before Holi and perform religious rituals and then pray for the destruction of their internal evil. The next morning people start the real carnival traditions and smear each other with colored powders; they sometimes use water guns and water-filled balloons for more fun. Groups of people march the streets with drums and other instruments, singing and dancing. People also gather with their families and friends to color each other and share Holi delicacies.
The event lasts for a night and day, from the evening of the full moon (Purnima). Holika Dahan, the burning demon Holika, is the first evening of the event. On this night, people gather, perform religious rituals on a bonfire and pray that the evil inside them is destroyed the way Holika was killed in the fire.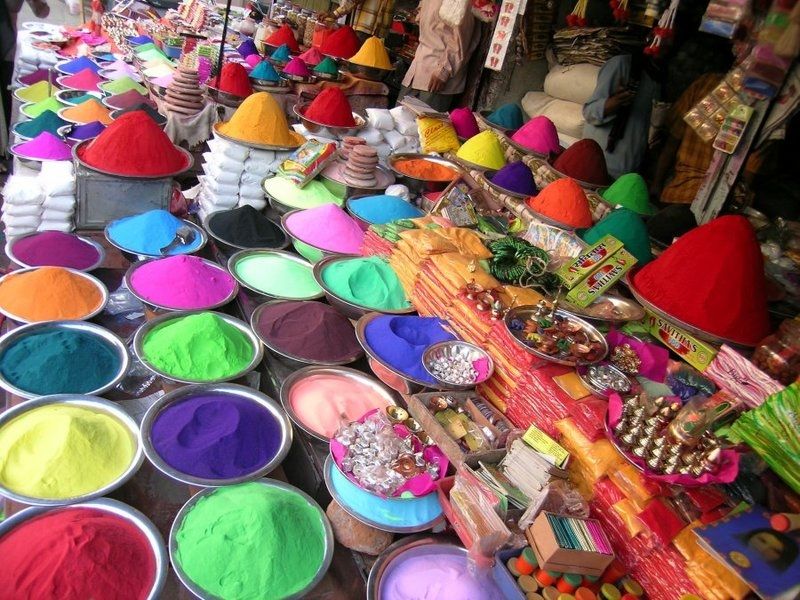 The Original Story behind the Holi of Colors
The festival of Colors is celebrated all over India since ancient times. Originally, the festival was an agricultural festival, celebrating the arrival of spring. It represents throwing off the gloom of winter and enjoying the liveliness of spring. The legend associated with the festival involves an evil king called Hiranyakashipu. He forbade his son from worshipping Vishnu. However, Radhu proceeded offering prayers to the gods. Hiranyakashipu challenged Prahlad to sit on a pyre with his aunt Holika who was to be immune to fire. When the fire started, Holika was burnt to death whereas Prahlad survived without a scar. Burning Holika is celebrated as Holi.
The morning after also known as Rangwali Holi is where people smear each other with colors and enjoy delicious gujiyas together, sharing the love. Water guns and water-filled balloons are also a part of the celebrations, making every moment of the event memorable.