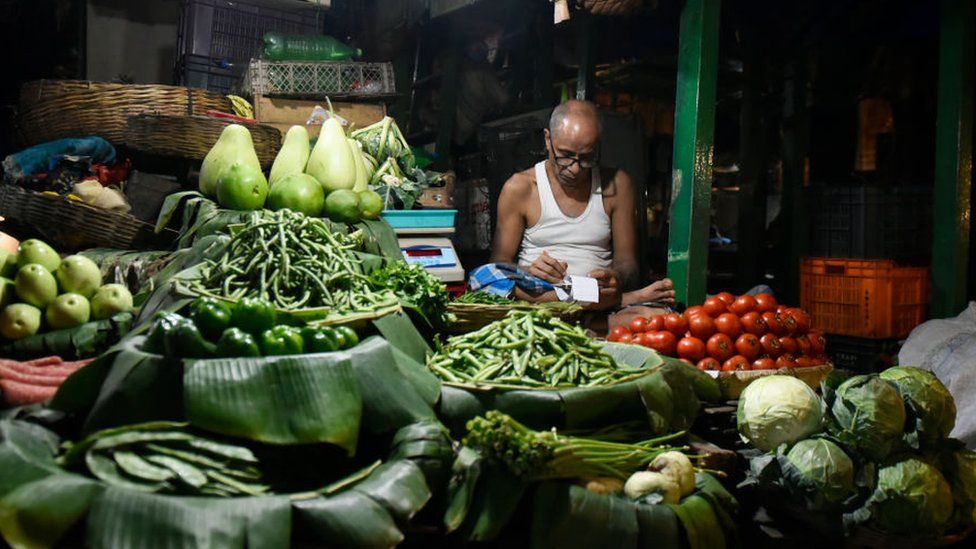 India's central bank has raised the benchmark interest rate for the first time in two years in an attempt to rein in high consumer prices.
The Reserve Bank of India (RBI) raised the repo rate - at which it lends money to commercial banks - by 40 basis points to 4.4%.
The rate had been reduced to a record low of 4% during the Covid-19 pandemic.
RBI governor Shaktikanta Das made the surprise announcement during an online media briefing on Wednesday.
The RBI also announced a 50 basis point increase in the cash reserve ratio - the percentage of cash that banks need to keep in reserve against their total deposits - to suck out excess liquidity from the system.
The decision came amid soaring prices of food and fuel, with inflation at an 18-month high and higher global prices filtering through into India.
"Inflation-sensitive items relevant to India such as edible oils are facing shortages due to the conflict in Europe and export bans by key producers. The jump in fertiliser prices and other input costs has a direct impact on food prices in India," Mr Das said.
RBI believes this, coupled with lockdowns in major production hubs such as China, is likely to "accentuate global supply chain bottlenecks while depressing growth", and pose further upside risks to India's inflation trajectory.
He added that food inflation is expected to remain high as "spillovers from global wheat shortages are impacting domestic prices, even though domestic supply remains comfortable".
But despite lingering global headwinds and intensifying geopolitical headwinds, RBI believes domestic growth will be supported by a broad rebound in economic activity, the forecast of a normal monsoon and a revival in the investment cycle and exports.